With the advent of new-age marketing campaigns prevalent on Youtube, Youtube Influencers/Creators have been seen writing a whole new rulebook for the same in order to assure cost-effective marketing strategies on the platform. Also, there has been a gigantic cultural shift in the nature of celebrities in terms of their authenticity and community and other topics that are of concern to marketers. Many of you must be wondering, what led to this huge shift, well it is the new class of voices whom we call influencers/creators that have brought about this enormous change in the way Youtube Marketing works. To harness its potential to the fullest it is required to play by the right rules if you(brands/businesses) want to make the most of these novel marketing strategies.
Youtube Influencer Marketing agency
Solebs-One of the chief Youtube Influencer Marketing Agency in the country provides top YouTube influencers for brands/businesses interested in YouTube Influencer marketing.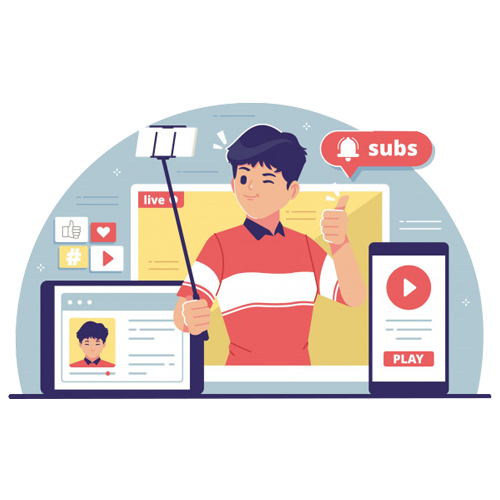 Every day millions of people turn to youtube either as a source of entertainment or education making it a profound platform for Influencer Marketing. It is indeed an excellent choice when it comes to scalable influencer marketing. Effective Youtube Influencer Strategies can help you precisely target your customers and meet your business requirements and objectives thereby giving you good ROI. With our extensive database of youtube influencers, we strive to help brands connect with top Youtube Influencers and yield an enormous bang for their buck.
Why Youtube Influencer Marketing?
Ramp up your Youtube Influencer Marketing Strategy by leveraging the power of Youtube Influencers thereby giving a boost to your business sales. Youtube Influencer Marketing is indeed one powerful and scaled form of communication medium between the brand and its target audience that helps you unlock the hidden potential of your business with the power of Youtube Influencers the right way by utilizing cost-effective youtube partnerships. Take a look at the top reasons how Youtube Influencer Marketing is helping businesses achieve their business goals and objectives.
Enriches Your Content Strategy
Effectively Reaches Your Target Audience
Provides Amazing Value to Your Audience
Builds Winning Partnerships
Key Youtube Influencer Marketing Statistics
70%
of teenage Youtube Subscribers say they relate to Youtube Creators more in comparison to traditional celebrities or TV Stars
55%
of marketers use Youtube as this helps them stay competitive with other brands
3X
Youtube users are 3X more likely to watch videos with a celebrity or an influencer
40%
of shoppers globally said that they purchased products that they discovered on Youtube
89%
of video marketers plan to include YouTube in their 2021 video marketing strategy
65%
Over 65% of users say YouTube content feels like real life
4X
Collaboration with Youtube Creators/Influencers is 4X more effective at driving lift in brand familiarity than those with celebrities.


Top Youtube Influencers in India
Varun Vagish
Travel
1.51m subscribers
Kritika Goel
Travel
345k subscribers
Tanya Khanijow
Travel
786k subscribers
Shreya Jain
Makeup
720k subscribers
Ankita Chaturvedi
Makeup
753k subscribers
Kritika Khurana
Lifestyle / Fashion
577k subscribers
Sarah Hussain
Food Blogger
122k subscribers
Aayush
Automobile Influencer
239k subscribers
Arun Panwar
Automobile Influencer
1.09m subscribers
Musafir aka Joshi
Automobile Influencer
1.82m subscribers
Ashwin Singh
Automobile Influencer
240k subscribers
Vishal Sharma
Food Blogger
1.57m subscribers
Vishal Sharma
Food Blogger
1.57m subscribers
Gaurav Wasan
Food Blogger
1.07m subscribers
Nikhil Chawla
Food Blogger
985k subscribers
Pujneet Singh
Food Blogger
743k subscribers
Anubhav Sapra
Food Blogger
1.11m subscribers
Komal Narang
Lifestyle
353k subscribers
Urban Gabru
Lifestyle
1.26m subscribers
Amit Bhawani
Tech Influencer
894k subscribers
Beebom
Tech Influencer
2.23m subscribers