Facebook Influencer Marketing is the same as influencer marketing on any other social media platform. It begins with a brand on the lookout for identifying a Facebook User with a good follower base that further overlaps with the brand's target audience. Once, this is done the brand then reaches out to the influential Facebook user to see if they're interested in collaborating with them and then agreeing to a set of deliverables and other terms and conditions (if any)
Facebook Influencer Marketing Agency
With the ever-evolving digital world, the Facebook marketing landscape is constantly changing too. Over the years, Facebook has proven itself to be a very reliable social media platform for brands to market their products/services by capitalizing on the following base of top Facebook Influencers. Without a question, Facebook is a great platform to complement your Influencer Marketing Campaigns.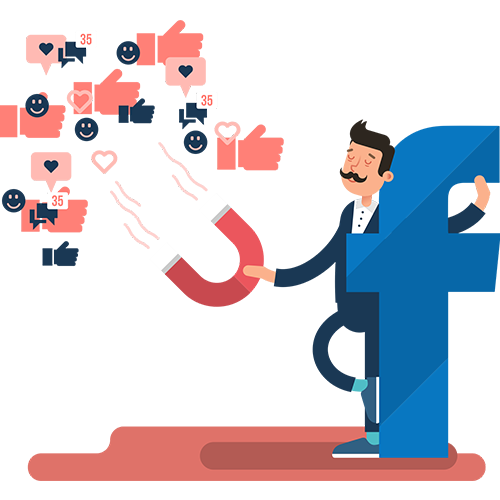 As a full-service Facebook Influencer Marketing Agency, we take over to handle the creative, strategy, influencer sourcing, relationship management, and campaign execution process across Facebook by continually looking forward to working beyond conventional metrics and generating real impact with our ROI-driven facebook influencer marketing strategies. What are you waiting for? Get in touch with one of the leading Facebook Influencer Marketing Agency in the country and harness your brand's latent potential.
Why Facebook Influencer Marketing?
Usually, we do not talk about Facebook Influencer Marketing as much as we do about Instagram Influencer Marketing. But as a matter of fact, if you are targeting a demographic that uses Facebook, it makes complete sense as to where your focus should be in terms of influencer marketing activity. To understand better why use Facebook for Influencer Marketing, take a look below:
Most Popular Social Media Platform
In-depth analytics using Facebook Insights
Increased Brand Awareness
Customers trust influencers
Key Statistics of Facebook Influencer Marketing
45%
of Marketers use Facebook Influencer Marketing for achieving their business goals and objectives
11%
1.73 billion daily users access Facebook's platform with an 11% increase year-over-year
91%
of millennials trust online reviews as much as friends and family