Over the past few years, Instagram has become the powerhouse social media marketing channel owing to its accelerated rate of utilization in the population. It is a great platform that helps in scaling marketing campaigns by building customer relationships, creating brand awareness, and advertising the right way. Owing to these business benefits, brands have started to leverage Instagram influencers as this can be an ace in the hole for brands to reach their target audience at the right time and help boost the sales lifecycle.
Instagram Influencer Marketing Agency
We are one of the prominent Instagram Influencer Marketing Agency in the country, that help businesses build relationships with influencers by allowing them to reach their target audience in a more genuine way in comparison to traditional advertising.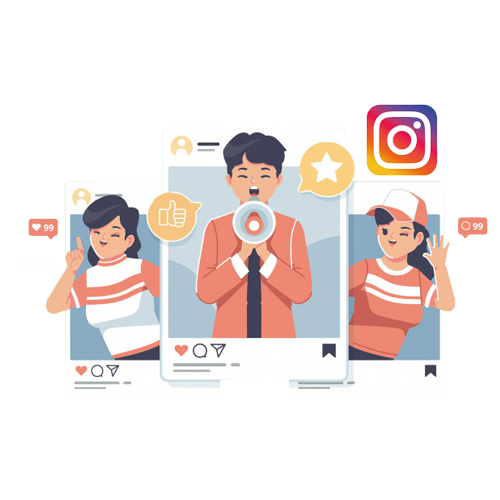 Generally, Instagram Influencers have a strong and loyal relationship with their followers, the main reason is that besides just sharing work-related stuff they also share several other different aspects of their lives with their followers and this leads to a feeling that they know them personally and this, in reality, is one of the topmost reasons whenever an influencer recommends something, followers listen to them as if it was a recommendation from a friend. Never forget that advertising relies more and more on engagement and quality interactions with customers. So, what is keeping you waiting? Unlock your brand's potential and fulfill your influencer marketing needs with Solebs-Top Instagram Influencer Marketing Agency that helps businesses build a reputation by floating pragmatic and results-driven Instagram Influencer Marketing Campaigns under varieties of budget options.
Why Instagram Influencer Marketing?
Instagram Influencer Marketing helps businesses reach their target audience by providing the followers with content they want directly from the people they trust. Have a glimpse at the top reasons why marketers are choosing Instagram Influencer Marketing:
Increases Customer Retention Rate
Key Influencer Marketing Statistics
80%
of marketers find influencer marketing effective
89%
of marketers say ROI from influencer marketing is better than or comparable to other marketing channels.
39%
of brands spend over 20% of their marketing budget on influencer marketing
90%
of Marketers believe Influencer Marketing to be an effective form of marketing
86%
of marketers place raising brand awareness as one of their top objectives before planning an influencer campaign
80%
consumers have either purchased a product or availed of services after recommendation by an influencer
50%
Content Is Up 50% By Instagram Influencers during COVID-19
37%
higher retention rate among customers acquired via influencer marketing.


Top Instagram Influencers in India